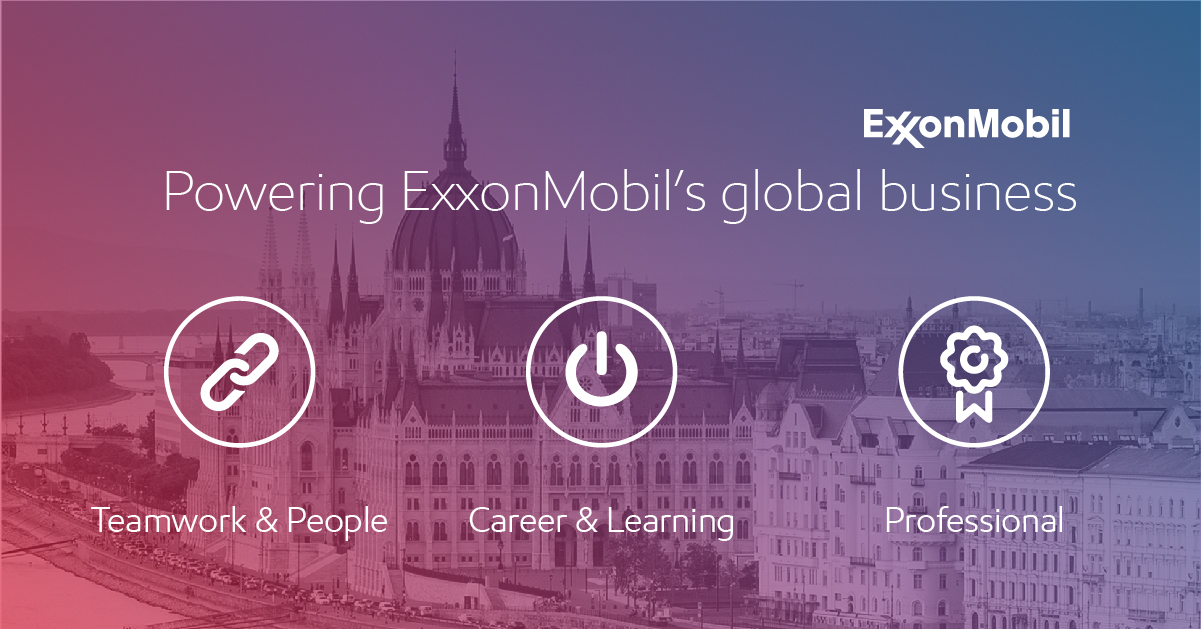 Corporate Financial Services - Controllers Analyst
Location: Budapest, BU, HU
Company: ExxonMobil
Job Role Summary
ExxonMobil is looking for the best and brightest people with exceptional talent and incredible drive. In exchange for commitment, integrity, innovation and leadership, ExxonMobil provides a challenging and rewarding long term career with numerous opportunities.
ExxonMobil established the European Business Support Center in Budapest in 2004, employing currently more than 500 people in the Controller's department. It has become an indispensable service provider for ExxonMobil affiliates in Europe, Africa and the Middle East. The Controller's department is looking for energized and intelligent candidates who enjoy a dynamic work environment with many challenges, and who want to position themselves for a long term career with a well-established international company.
An analyst will be responsible for operational, general, payroll or financial accounting activities including end-to-end processing, issue resolution and process improvements. Individuals may be responsible for the activities of specific countries and hence knowledge of a second European language is desirable. Demonstrated performance will lead to opportunities for increasing responsibilities and more job complexities across the financial organization.
Specific responsibilities could include:
Partnering with the business operations to ensure the completeness of volumetric and commercial accounting records;
Completing financial accounting and reporting activities for several countries;
Collaboration with external service providers to deliver end to end payroll process (e.g. gross to net, tax and social security accounting, HR accounting, employee's customer service) for multiple countries in EMEA region;
Reconciliations and investigation of items for prompt resolution;
Preparation and analysis of monthly and quarterly key performance indicators.
Requirements
Ability to work full-time (40 hrs/week)
Bachelor/Master degree (or pending degree with only the final exam outstanding) in Finance, Economics, Accounting or equivalent with 0-2 years relevant work experience (in accounting, finance, payroll, tax, treasury or other relevant experience)
Accounting background with minimum of 3 semesters of accounting or finance studies (and strong understanding of it)
Fluent level of English and second European language, besides Hungarian, is encouraged (i.e.: Italian, French, German, etc.)
Demonstrated analytical and problem solving skills
Willingness to take self-initiative and seek challenges
Ability to influence others and work in a team environment
Strong communication and interpersonal skills
Proven record of initiative, leadership and academic achievement
Attention to accuracy and detail and ability to meet priorities and deadlines
What we offer
Interesting work in international environment
Daily contacts with international Customers developing your communicating and language skills
Learning through trainings
Range of career opportunities in the one of the most successful companies in the world
Flexible working conditions, have Working from Home opportunities and support a healthy work-life balance.
Competitive compensation and benefit packages.
Floating holidays, life and private health insurance and many more.
Job Segment: Tax, Financial, Financial Analyst, Corporate Finance, Finance, Payroll